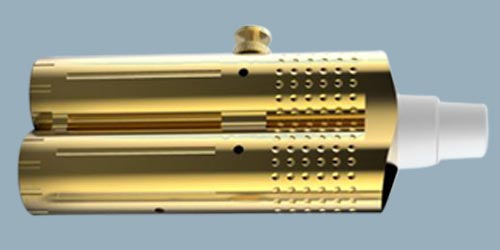 Product Overview
The Dabatoke Model 3.0 is a smoking device that allows users to electronically smoke their herbs in style on the go or using a water pipe.
This thing of beauty is proudly manufactured by Megatoke; who are renown manufacturers of premium quality, innovative and stylish Cannabis vaporizers and smoking devices.
The Dabatoke features a dual chamber and dual battery system that allows you to burn your weed and essential oils at the same time. In addition to the gold or
silver color choice available the Dabatoke is built to last and can last for a long time.
Finally, while this device may feature a premium price, it is totally worth it for frequent travelers seeking the joys of portable Kush smoking.
Why We Like It
Honestly the Dabatoke 3.0 is an amazing product that we have come to love.
First this device is crafted with a few components that you can all buy replacements for.
Additionally, we like this device because it comes with dual functionality not commonly found on other devices in the market.
Finally, we have used the Dabatoke and can testify that it is highly effective. The smoke delivery system is awesome and it took only a few minutes for it to get us warmed up.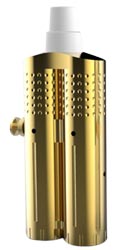 A dab and a toke. At the same time.  We shouldn't have to say any more than that.
Product Benefits
1. The product comes with rechargeable batteries.
2. The dual system chamber allows weed and oil to be set up at the same time.
3. Features a stylish, attractive and cool design.
4. Lightweight and portable for smoking on the go.
5. The product is easily disassembled for easier cleaning.
6. Comes with a ceramic plunger to aid in guiding the weed.
7. Can be used for a wide range of herbs eg. tobacco and marijuana.
8. water pipe adapter is compatible with all water pipe types in the market.
9. Comes with quartz coated coils for efficient smoke production.
10. Is durable and built to last.
Take Away
The impressive Dabatoke Model 3.0, however, has a few downsides that are worth mentioning:
1. Most of its components are not compatible with others available in the market.
2. The Manufacturer does not allow refunds after you buy their product.
3. The premium price may lock out users operating on a tight budget.