Koko Nuggz Explained
Koko Nuggz are non-medicated gourmet chocolate sweets and are a product of Cali Sweets based in California.
But before we get into it, lets talk about the appearance of these treats, which is probably the most awesome thing about them.
They are designed to look like real cannabis buds shaped, color and all.
And trust me the company did such a good job that no one would blame you for mistaking the snacks for your stash.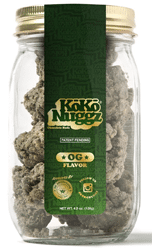 Looks like the best chronic that you've ever smoked, but tastes like the best chocolates that you'll ever eat.
What are in these sweets?
Another awesome thing about Koko Nuggz is the use of wholesome ingredients which include milk, eggs, rice flour, healthy fats and vitamin extracts.
Then, the ingredients are added to premium cacao extracts.
Finally, these come together to make glorious mouth bombs full of rich chocolaty goodness.
Who are they made for?
Literally anyone with a sweet tooth will enjoy Koko Nuggz.
However, this is a super special treat for lovers of novelty chocolate designs. I mean what better way to add to your rare treats collection than to have weed-inspired chocolates?
So you could either buy them for yourself or as a present for your chocolate addict of a friend.
Last but not least, they would also be great for any recreational smokers because they are the perfect cure when you catch the munchies.
Available Flavors
Something else worth celebrating about these sweets is the wide variety of flavors available. This is awesome if you want more than just plain old chocolate.
Here is a list of some of the options that you have to consider.
1. OG
2. Kush berry
3. Strawberry Shortcake
4. Cream and cookies
5. Banana OG
6. Lemonade
Packaging and Delivery
Koko Nuggz are available in 2 types of packaging.  The first is a plastic zip lock bag for the 1 oz. packs. The other type of packaging available is in glass mason
jars. These are for the 2.25 oz. and 4.5 oz. packs.
When delivered, the company includes ice packs to keep them chilled and to prevent melting.
If you live somewhere where the weather tends to run really hot you might want to collect your package fast to keep them from melting.
Pros
– Koko Nuggz are incredible delicious.
– They are non-psychoactive, which means you can eat as much as you want.
– The chocolates look so realistic that you will be the talk of party.
– Each batch is packaged well and can be reused.
– There are many flavor options to choose from.
Cons
– They melt if not chilled.
– They contain gluten and traces of nuts which could be an allergy hazard.
Bottom Line
After all is said and done, there is no denying that Koko Nuggz are amazing sweets.
Their gourmet recipe, variety of flavors and super realistic cannabis design make it worth every penny spent. So get your very first jar and be the judge.
You will not be disappointed.